1/9
Best of Alaska, Trains, Wildlife & Denali Cruise Connector | Alaska Railroad
2/9
Best of Alaska, Trains, Wildlife & Denali Cruise Connector | Alaska Railroad
3/9
Best of Alaska, Trains, Wildlife & Denali Cruise Connector | Alaska Railroad
4/9
Best of Alaska, Trains, Wildlife & Denali Cruise Connector | Alaska Railroad
5/9
Best of Alaska, Trains, Wildlife & Denali Cruise Connector | Alaska Railroad
6/9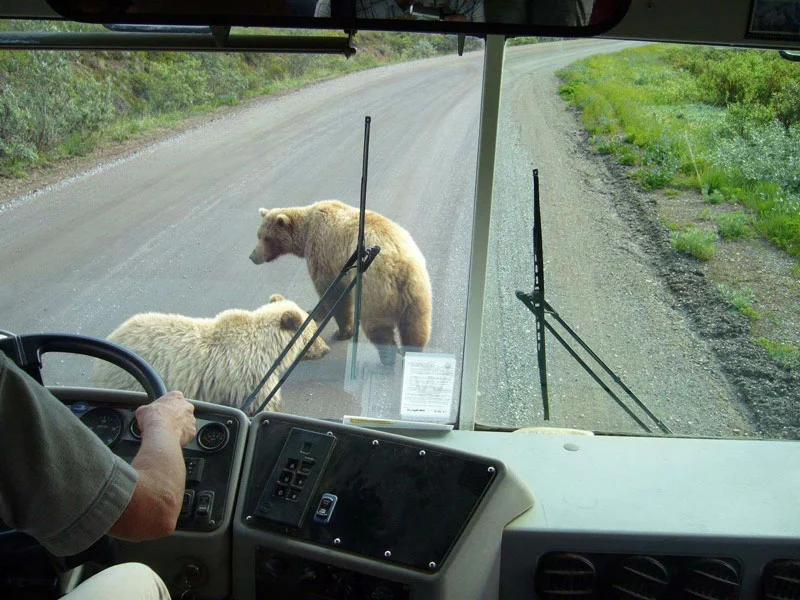 Best of Alaska, Trains, Wildlife & Denali Cruise Connector | Denali Backcountry Tour
7/9
Best of Alaska, Trains, Wildlife & Denali Cruise Connector | Denali Backcountry Tour
8/9
Best of Alaska, Trains, Wildlife & Denali Cruise Connector | Denali Backcountry Tour with Scenic Flight
9/9
Best of Alaska, Trains, Wildlife & Denali Cruise Connector | Denali National Park Moose
Best of Alaska, Trains, Wildlife & Denali - Cruise Connector
4 Days / 3 Nights
Seward,Whittier to Fairbanks or Fairbanks to Seward,Whittier
INTRODUCTION
This 4 day Alaska Railroad tour is the perfect reversible Alaska cruise connector.
Departing from either Seward or Whittier cruise ship terminals, you can explore Denali National Park onboard Alaska Railroad and travel in the style and comfort of a Goldstar Railcar.
Enjoy glass-domed ceilings, upper-level outdoor viewing platforms, inclusive dining, a private bar and full commentary of your journey.
Day 1
Seward or Whittier to Anchorage
Option 1. Seward Cruise Ship Terminal to Anchorage | Small Group Tour
Option 2. Whittier Cruise Ship Terminal to Anchorage | Small Group Tour
Day 2
Anchorage to Denali National Park Entrance | Alaska Railroad
Day 3
Denali | Freedom of Choice - Choose 1 of 4 Excursions
Option 1. Denali Highway Jeep Excursion | Self-Drive Guided 4x4 Excursion
Option 2. Tundra Wilderness Tour | Coach Tour
Option 3. Upgrade Option: Denali Summit Flightseeing | Small Aircraft
Option 4. Upgrade Option : Denali Glacier Landing | Helicopter
Day 4
Denali National Park Entrance to Fairbanks | Alaska Railroad
MAP
View map
DETAILED ITINERARY
Read more
INCLUDED
Read more
WANT TO KNOW MORE?
Arrange a call with an Alaska Train Travel Designer and bring your vacation to Alaska one step closer!
Schedule a Call
DATES & PRICING
Read more
REVIEWS
We are so grateful for the careful planning and ideal itinerary for our vacation. We loved every hotel or mountain cabin we stayed in, the boat ride through the Seward fjords, Alaska Railroad, the bush ride into Denali Park for a close enough encounter with a mama grizzly and her 2 cubs....and awesome scenery at every curve.
Wayne Michigan, United States
Excellent trip. Well planned out. We were able to get all our additional destinations accommodated.
Paul Williams Canada
Just a note to tell you how much we enjoyed our unexpected trip. Thank you for organising this so quickly for us to fill in the extra 5 days after the cruise was terminated.Everything went so smoothly, and we were on everyone's' 'list' on all the transfers. The best part was the small plane flight back from Denali- it was brilliant.The cruises on the Fiords were also a highlight. So, thanks again. We are thinking of coming back to view the Northern Lights at Fairbanks and also the start of the Iditarod.
Lynne Sydney, Australia
Not being able to travel Internationally we decided on Alaska for our summer vacation, We worked with Samantha who has been to Alaska many times and recommended the perfect itinerary for us. This trip has made us want to go back to Alaska to experience more - next time will be another luxury remote lodge.
Jeff Los Angeles, CA
They were professional and pleasant to work with. When the fires starts in various areas that they would be touring Alaska Train Trips were great in helping to make adjustments to the clients reservations. The clients were thrilled with there trip.
Jemma L New York
Alaska Train Trips is part of Alaska by Design and i use this company for all my Alaska Business, they are so knowledgeable and i usually work with Samantha or Jasmine.
Janie P Austin, TX
Alaska Train Trips which is part of Alaska by Design created a perfect itinerary for my clients. They returned with great memories and were extremely pleased with all aspects of their trip.
Michael Figueriedo Spain
Nothing was too much trouble for Jennifer or Karen when we were planning our holiday. They were able to tailor our trip to what we wanted. We have recommended Alaska Train Trips to our friends.
Anne Mathews Australia
Best of Alaska, Trains, Wildlife & Denali - Cruise Connector
Start planning your tailor-made train vacation in Alaska by contacting our train specialists
Call 1 800 686 1694US
Monday - Friday: 8am - 5pm PST
, Saturday: 8am - 4:30pm PST
, Sunday: CLOSED
Send an email sales@alaskatraintrips.com