1/15
Luxury Lodges in Alaska | Private Plane & pilot for the Day in Prince William Sound
2/15
Luxury Lodges in Alaska | Prince William Sound
3/15
Luxury Lodges in Alaska | Stillpoint Lodge Kenai Peninsula Alaska Grizzly Bear Excursion
4/15
Luxury Lodges in Alaska | Homer
5/15
Luxury Lodges in Alaska | Stillpoint Lodge Kenai Peninsula
6/15
Luxury Lodges in Alaska | Stillpoint Lodge Kenai Peninsula
7/15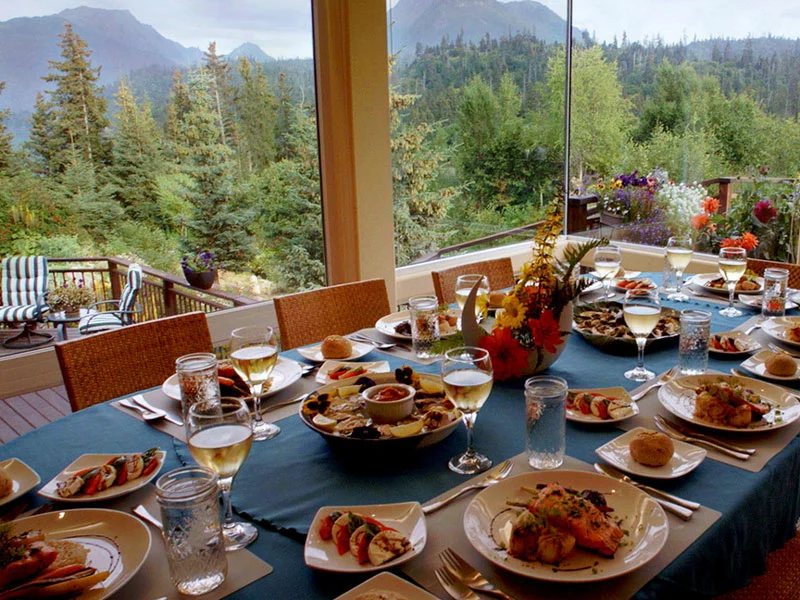 Luxury Lodges in Alaska | Stillpoint Lodge Kenai Peninsula
8/15
Luxury Lodges in Alaska | Sheldon Chalet Denali
9/15
Luxury Lodges in Alaska | Sheldon Chalet Denali
10/15
Luxury Lodges in Alaska | Sheldon Chalet Denali
11/15
Luxury Lodges in Alaska | Sheldon Chalet Denali
12/15
Luxury Lodges in Alaska | Sheldon Chalet Denali
13/15
Luxury Lodges in Alaska | Sheldon Chalet Denali
14/15
Luxury Lodges in Alaska | Sheldon Chalet Denali
15/15
Luxury Lodges in Alaska | Sheldon Chalet Denali
Luxury Lodges in Alaska Ultimate Adventure Package
INTRODUCTION
Experience two of the top luxury lodges in Alaska – Stillpoint Lodge and Sheldon Chalet – on this 10 day circle tour from Anchorage.
Discover diverse landscapes and stunning wildlife on a full day tour of Prince William Sound by seaplane, then arrive to Stillpoint Lodge and go bear viewing in Katmai National Park.
Boarding a helicopter up to Sheldon Chalet, you'll discover an engineering marvel.
Located just 10 miles from Denali's summit, it offers a once-in-a-lifetime opportunity to trek across glaciers and watch the dance of the northern lights.
Day 2
Prince William Sound 26 Glacier Cruise | Alaska Railroad
Day 3
Anchorage to Stillpoint Lodge| Private Charter Floatplane Flight
Day 4
Stillpoint Lodge | Alaska Brown Bear (Grizzly Bear) Viewing
Day 5
Stillpoint Lodge to Talkeetna |Private Charter Floatplane Flight
Day 6
Talkeetna to Denali | Sheldon Chalet | Helicopter
Day 7
Denali | Sheldon Chalet
Day 8
Denali | Sheldon Chalet
Day 9
Sheldon Chalet to Anchorage | Helicopter
Day 10
Anchorage | Departure
MAP
View map
DETAILED ITINERARY
Read more
INCLUDED
Read more
WANT TO KNOW MORE?
Arrange a call with an Alaska Train Travel Designer and bring your vacation to Alaska one step closer!
Schedule a Call
DATES & PRICING
Read more
REVIEWS
Just a note to tell you how much we enjoyed our unexpected trip. Thank you for organising this so quickly for us to fill in the extra 5 days after the cruise was terminated.Everything went so smoothly, and we were on everyone's' 'list' on all the transfers. The best part was the small plane flight back from Denali- it was brilliant.The cruises on the Fiords were also a highlight. So, thanks again. We are thinking of coming back to view the Northern Lights at Fairbanks and also the start of the Iditarod.
Lynne Sydney, Australia
Not being able to travel Internationally we decided on Alaska for our summer vacation, We worked with Samantha who has been to Alaska many times and recommended the perfect itinerary for us. This trip has made us want to go back to Alaska to experience more - next time will be another luxury remote lodge.
Jeff Los Angeles, CA
They were professional and pleasant to work with. When the fires starts in various areas that they would be touring Alaska Train Trips were great in helping to make adjustments to the clients reservations. The clients were thrilled with there trip.
Jemma L New York
We are so grateful for the careful planning and ideal itinerary for our vacation. We had a complete portfolio of maps, places to visit, and reservations. We loved every hotel or mountain cabin we stayed in, the boat ride through the Seward fjords, the sternwheel ride in Fairbanks, the bush ride into Denali Park for a close enough encounter with a mama grizzly and her 2 cubs....and awesome scenery at every curve.
Wayne Michigan, United States
Luxury Lodges in Alaska Ultimate Adventure Package
Start planning your tailor-made train vacation in Alaska by contacting our train specialists
Call 1 800 686 1694US
Monday - Friday: 8am - 5pm PST
, Saturday: 8am - 4:30pm PST
, Sunday: CLOSED
Send an email sales@alaskatraintrips.com